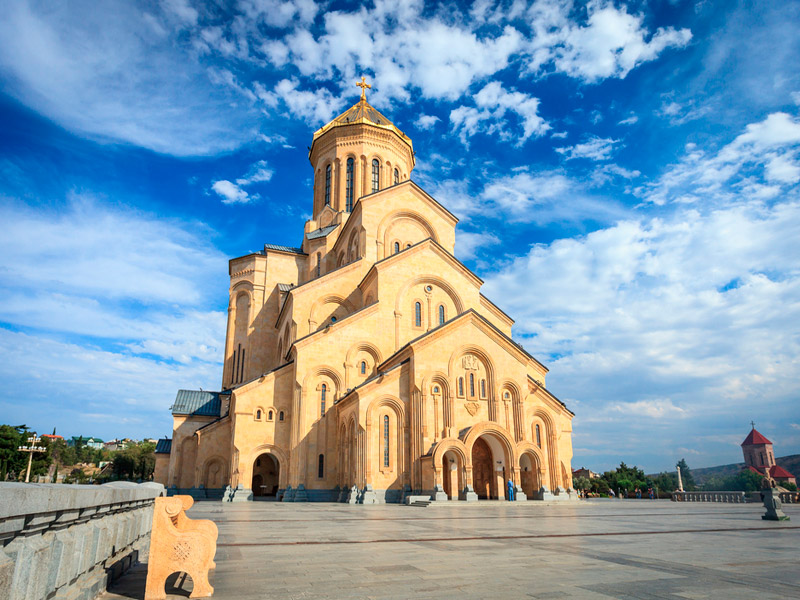 The Cathedral of the Holy Trinity, commonly known as Tsminda Sameba, is the most important and majestic cathedral in Georgia. Rising on the hill of St. Elijah, the cathedral, like a huge white bird, hovers over the city as if guarding it. This grandiose complex is visible from almost every corner of the capital. Tsminda Sameba is the main Georgian Orthodox Cathedral, as well as the third-largest Eastern Orthodox cathedral in the world. The construction of the Holy Trinity Cathedral has become a significant event for the entire Georgian people: it represents the unity of the Georgian nation, its faith, and power.
The Cathedral of Tsmind Sameba was built between 1995 and 2004 on the initiative of the Patriarch of All Georgia Ilia II in honour of the 2000th anniversary of the birth of Jesus Christ and the 1500th anniversary of the Georgian Church. Every Georgian had his own, albeit small, contribution: the funds for the construction of the cathedral were collected by donations from citizens and many wealthy businessmen.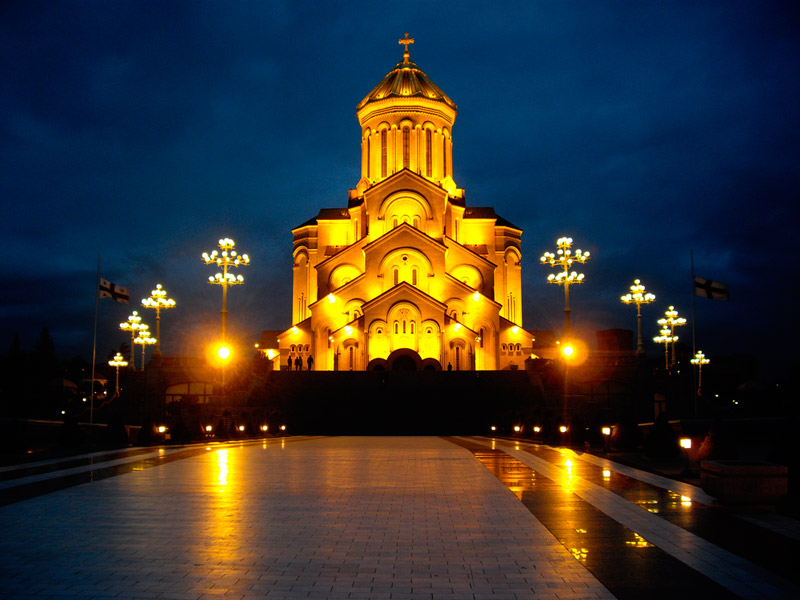 The Sameba complex consists of the main cathedral, separate bell tower, the residence of the Patriarch, the monastery, the seminary and theological academy. The height of the Holy Trinity Cathedral from the ground to the tip of the cross is 101 m. The height of the cross is 7.5 m. The cathedral also has underground structures that go into the depth of the earth at 13 m. The length of the temple is 70 m, the width is 64 m. The complex consists of nine chapels consecrated in honour of John the Baptist, St. Nino, St. George and other saints. In the lower tier, there is a church museum. The architecture of the cathedral is a combination of the old Georgian medieval church architecture traditions and modern solutions. The interior of the cathedral impresses with its grandeur and beauty: the cathedral is richly decorated with mosaics, icons, and miniatures. External facades will not leave indifferent connoisseurs of architectural solutions: the facades of the cathedral are decorated with arches and fine carvings on the stone.
On November 23, 1995, in the presence of thousands of believers, the Holy Synod of the Orthodox Church of Georgia, the President of Georgia and members of science and culture, a solemn ceremony of laying the foundation of the future cathedral was held. According to tradition, in the foundation of the cathedral, there were laid sacred artefacts, brought from the holy lands: the stones from Mount Sinai, where the Lord gave Moses Ten Commandments, from the Jordan where the Lord was baptized, from Nazareth, where the Virgin was buried, from Jerusalem, and also from different churches and monasteries of Georgia. After 9 years, on November 23, 2004, on the occasion of St. George's Day – the patron of Georgia, the Holy Trinity Cathedral was solemnly blessed and consecrated.
You can visit Sioni Cathedral with our Religious Tour, Classical Tour and Tour "Uncover Georgia".
Tours to Armenia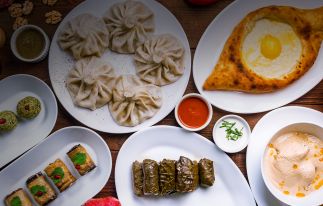 Other Travel Articles
Thank you! You have succeeded your payment. Our tour coordinator will contact you the nearest working