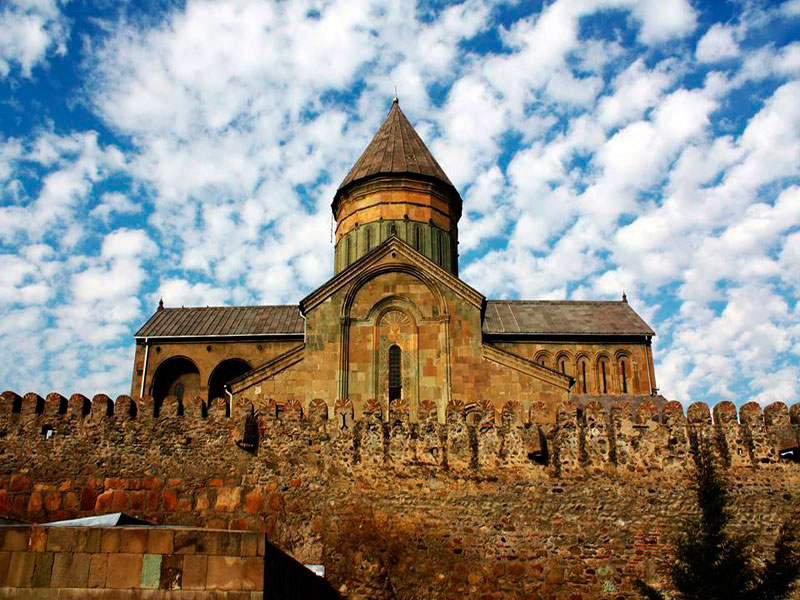 In Georgia, there are many ancient monasteries, churches and holy places, however, Svetitskhoveli Cathedral occupies a special place among all and is of particular importance for every Georgian. Svetitskhoveli is the most important monument of the Georgian culture, art, and architecture, and is distinguished not only by its artistic dignity, nobility and harmony but also by the role that once played for the Georgian nation.
It is located not far from Tbilisi, in Mtskheta, which was once the capital of the ancient kingdom of Iberia (Kartli). The history of Svetitskhoveli is inseparable from the heroic past of Georgia. The construction of the cathedral is connected with the adoption of Christianity during the time of the Kartli Kingdom. Svetitskhoveli, first of all, is the religious centre of Georgia, because it was here that for 8 centuries the residence of the Patriarch of the Georgian Orthodox Church had been located.
According to various historical sources, the original Svetitskhoveli Cathedral was built at the beginning of the IV century, when Georgia officially adopted Christianity.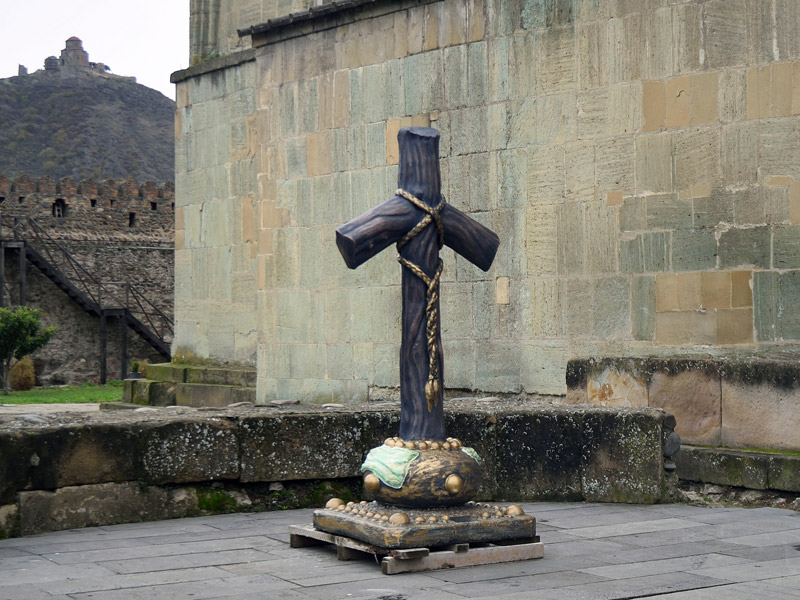 The place for the construction of the cathedral was not chosen by chance: in this place, at the mouth of the rivers Mtkvari and Aragvi, according to a legend, the "Holy Grove" or the Royal Garden of King Mirian was situated. The church was erected on the grave of St. Sidonia, in the place where the miraculous myrrh-streaming cedar grew healed people from disease. By the order of King Mirian, it was from this cedar that the wooden structure of the cathedral was constructed and from here it got its name Svetitskhoveli meaning "the life-giving pillar". In memory of the sacred tree, now in the centre of the cathedral stands the "miraculous pillar", surrounded by a stone canopy with frescoes and paintings.
The stone structured church was built around 19 years, during the reign of King George I. It was finally completed during the reign of Bagrat IV (1027-1072). Svetitskhoveli is one of the highest churches in Georgia (54 m). It has a huge artistic heritage and is considered one of the pearls of Georgian architecture. At the entrance to the temple, a spacious hall with a magnificent view opens. Inside and outside the cathedral are richly decorated with paintings and frescoes both with evangelical plots and with everyday motives connected with the way of life and the traditions of the common people. Very often in the elements of the decor, you can find a grapevine, as grapes and wine are inseparable from the Georgian culture and are a national treasure.
Among the numerous relics kept in the cathedral is the Heaton of the Lord. October 14 in Mtskheta the Georgian church celebrates with great solemnity the holiday of Svetitskhovloba, dedicated to the acquisition of the Heaton of the Lord.
You can visit Sioni Cathedral with our Religious Tour, Classical Tour and Tour "Uncover Georgia".
Tours to Armenia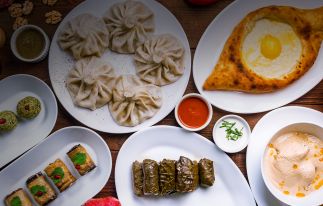 Other Travel Articles
Thank you! You have succeeded your payment. Our tour coordinator will contact you the nearest working