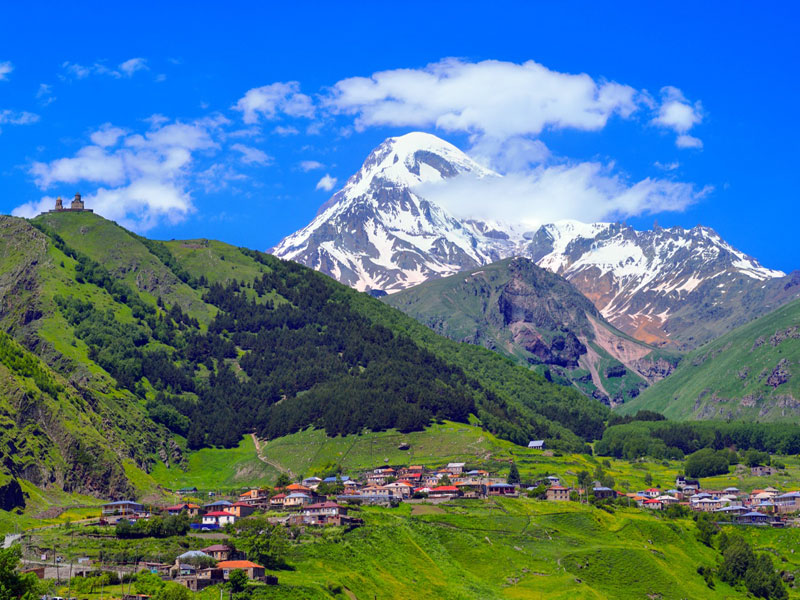 Stepantsminda is a small settlement of urban-type which is located in the north of Georgia in Mtskheta-Mianeti province directly at the foot of majestic Mount Kazbek. Until 2007, the town was called Kazbegi, and it got this name in honour of the Georgian writer Alexander Kazbegi, a native of this land. Stepantsminda is the centre of Kazbegi Municipality and is considered a popular balneological resort area. Тhe famous Georgian Military Road which connects Russia and Georgia passes through the town.
Stepantsminda and its surroundings are very picturesque: the whole area is located in the valley of the River Terek, and over the town, the magnificent Caucasus Mountains rise, among which the snow-covered peak of Kazbek stands out. The settlement is also famous for its clean mountain air and mineral waters. That is why many tourists come here not only for recreation but also for health improvement. The climate is mild with an average temperature of -5 °C in winter and +15 °C in summer.
Among the sights, the most famous is Mount Kazbek, which has a height of 5033 meters. It is covered by snow and glaciers. Kazbek is a favourite destination for mountain climbing fans. For those who are not planning to conquest the top of the mountain, a great option would be hiking to the temple of the Holy Trinity located at an altitude of 2170 m. Those who wish can continue hiking to the height of 3700 meters to the weather station.
Among the entertainment most popular and widely practised here is extreme tourism. Besides mountain climbing here are organized paragliding flights, horse riding, cycling activities and rafting.
There are several good hotels, guesthouses, and hostels for overnight. There is also an opportunity to stay at local resident houses for a low fee.
Holiday in Stepantsminda is a great option for those who are tired of city vain life and want to relax in the open air, in the lap of beautiful and peaceful nature.
Tours to Armenia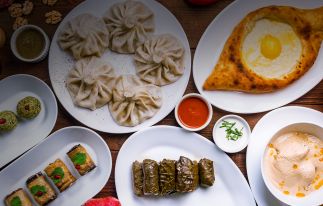 Thank you! You have succeeded your payment. Our tour coordinator will contact you the nearest working