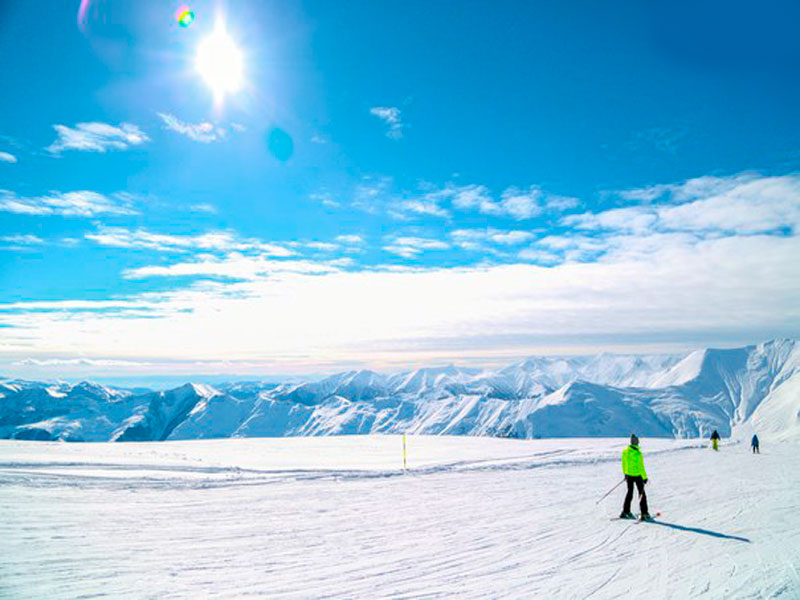 Gudauri ski resort is deservedly called the winter capital of Georgia. All the necessary conditions for quality and exciting winter holidays are created here. Gudauri is the newest and leading winter sports destination not only in Georgia but also throughout the entire Caucasus. While Bakuriani is more family orientated resort and is best suitable for beginners, Gudauri ski resort is a real paradise for professional athletes who want to experience the adrenaline of freeride, speed riding, heli-skiing, paragliding or just to enjoy high-quality skiing and snowboarding.
This cosy and actively developing resort has become the most popular ski destination in Georgia, attracting snow lovers from neighbouring countries and Western Europe. Gudauri is located in the heart of the magnificent Alpine countryside, and offers large areas for skiing with plenty of snow in tandem with wonderful sunny weather and unforgettable Georgian hospitality!
Holidays in Gudauri: Ski season and Infrastructure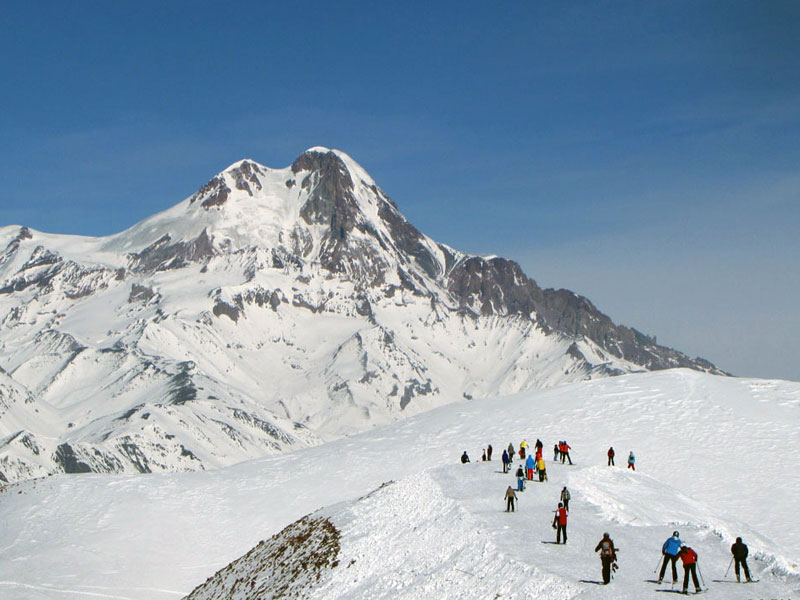 Young and rapidly developing winter sports resort of Gudauri is located on the southern slopes of the Caucasus Mountains in Georgia, near Stepantsminda District, along the famous Georgian Military Highway near the Cross Pass, at an altitude of 2,200 meters above sea level. Gudauri is located 120 kilometres north from the capital, Tbilisi. You can reach Gudauri from Tbilisi in two hours either by car or in 4-5 hours by public transport. The ski season starts from December to April. High season begins from 12 December – 10 March, and the low season from 11 March to 15 April. Snow on the slopes reaches up to an average depth of 2-3 meters. The weather is always warm and sunny, despite the fact that the resort is located high in the mountains, above from the wood line. Gudauri has about 50 km of trails with different difficulty levels.
Professionals can enjoy slalom slopes, giant slalom, super giant slalom and downhill slopes. All tracks are certified by the International Ski Federation. Gudauri is famous for its off-piste opportunities down the unspoiled virgin slopes. The deep powdery snow, lack of stones, and minimal risk of avalanches made Gudauri kind of Mecca of freeriding. The resort is also surrounded by large areas with off-piste slopes for these types of riding, as the backcountry and heli-skiing.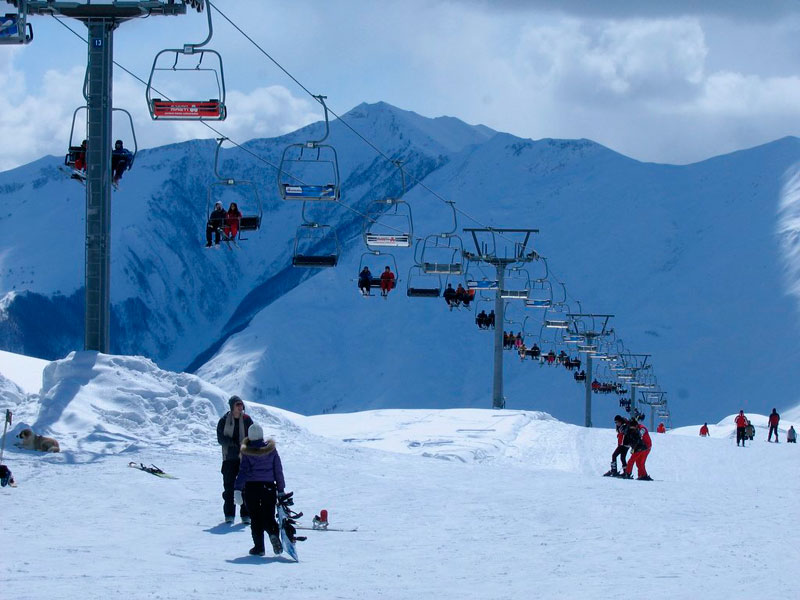 The bottom lift station is at an altitude of 1,990 meters (6,500 feet), while the upper station – 3007 m (9860 feet!) and is called Sadzele. In total there are 7 lifts and slopes:
The first three-seat ski lift, leading to the "Pirveli" trail has a length of 1053 m; in the evening this track is lighted, which makes it possible to ride at night from 20:00 – 22: 00;

The second four-seated-speed chair lift has a length of 2295 m; It leads to "Soliko" track;

The third three-seated lift with a length of 1063 m leads to the top of Kudebi;

The fourth three-seated lift with a length of 1104 m leads to the "Snow Park" route, which is designed for extreme skiing;

The fifth lift with a length of 1504 m leads to the top of Sadzele;

Cableway with a length of 2,800 m; gondola seats up to 10 people.

Ski lift POMA with a length of 600 m leads to the slope "Zuma", which is specially designed for beginners and children.
Prices for ski pass in high season:
1 ascent – 5 GEL / 3 USD
1 day – 30 GEL / 15 USD
10 days – 240 GEL / 110 USD
Season – 500 GEL / 225 USD
Night skiing – 10 GEL / USD 5
Lifts run from 10:00 to 16:00, regardless of the number of skiers on the slopes. Lifts can be closed in rare cases due to adverse weather conditions: at very low visibility and strong wind gusts. Cableways are equipped with backup generators in case of power crashes or power outages. Along the slopes and lifts, free Wi-Fi connection is available. The resort has various ski and rental services, and if you're only doing the first steps, you can always seek the services of professional instructors.
Holidays in Gudauri: Sights of Interest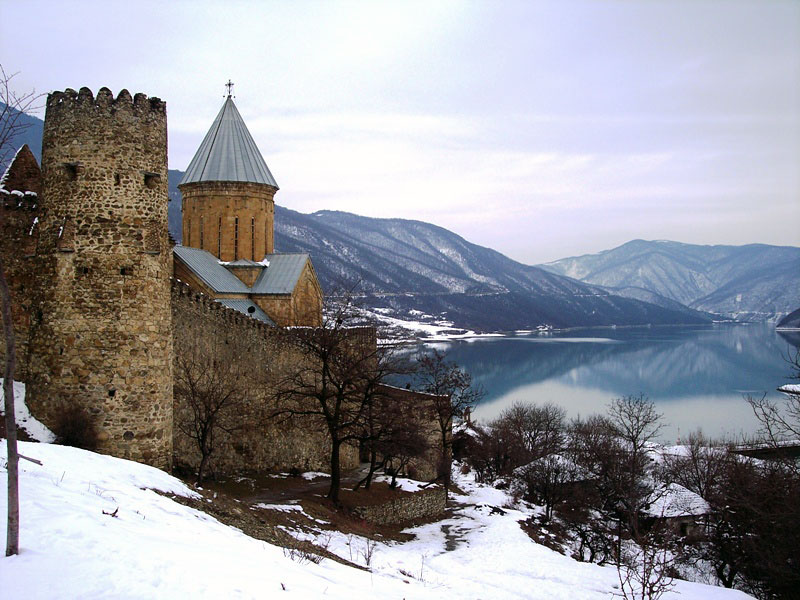 Gudauri surroundings are rich in attractions that are definitely worth a visit. One of them is a fortress of Ananuri. Ananuri Fortress is a multifunctional architectural complex that has been preserved from the era of feudalism. Built on the right bank of the river Aragvi, the castle was the seat of the Dukes of Aragvi Eristavi in the 13th century. The fortress was once located on the Great Silk Road. Now the road is called the Georgian Military Highway. Distance from Tbilisi is 74 km (1-hour drive) – a scenic route through the mountains and gorges to the reservoir of Zhinvali, where the fortress is built. Castle, tower, three churches and beautiful wall carvings are the reason why the place is so popular among tourists.
On the Georgian Military Road at an altitude of 2400 m, another place of interest is situated – the Cross Pass. The pass got its name from the stone cross, which in 1824 was set to mark the location. Along this road once travelled the famous Russian writers Alexander Pushkin, M.Y. Lermontov and A. Griboyedov, who sang in their works the charming and picturesque nature of Georgia.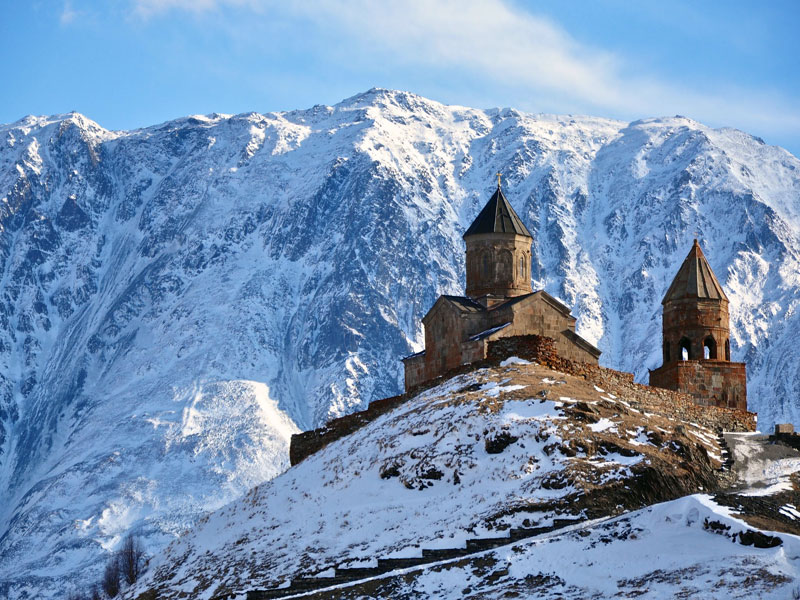 Gergeti Trinity Church is the popular name of the Holy Trinity Church in the area of Gergeti village. The church is located on the right bank of the river Chkheri at an altitude of 2170 meters on a mountain top near Kazbegi. Gergeti Trinity Church was built in the 10th century. In times of danger, precious relics of Mtskheta, including grapevine cross were brought here for safekeeping. During the Soviet era, all religious services were banned, but the church still has remained a popular tourist destination. The church is currently an active member of the Georgian Orthodox Apostolic Church. The Church is a popular destination for travellers. It offers a breathtaking view of the surrounding area and the mighty giant Kazbegi. Gergeti Trinity Church is considered the highest alpine structure in Europe.
Holidays in Gudauri: Hotels
In Gudauri, you can stay in cottages and hotels of various categories. Overnight prices vary from $ 20 to $ 100 per night per person with breakfast. Here is the information on the most popular hotels and types of après-ski relaxation they offer.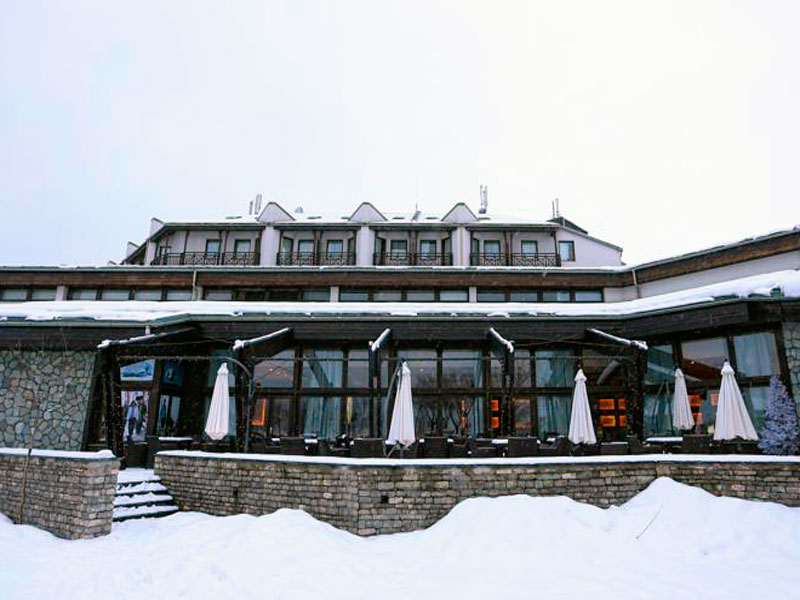 "Marco Polo" Hotel: fairly this is the most popular and favourite tourist hotel in Gudauri. The design of the rooms is made in soft, pastel colours; all rooms are equipped with a minibar and a work desk, with a flat-screen TV and wireless internet. Bathrobes and toiletries are provided free of charge in the private bathroom. Guests can enjoy a fitness and spa centre with indoor pool. After an active day of skiing, guests can relax in the sauna and hot tub or enjoy a massage. You can also arrange a mini-competition in billiards in the games room.
A variety of dishes of European and Caucasian cuisine is served at the restaurant, which is decorated in a classic style, and the cosy bar features a fireplace, beside which the youth loves to gather at night with a glass of delicious Georgian wine, which is warming up the body and soul.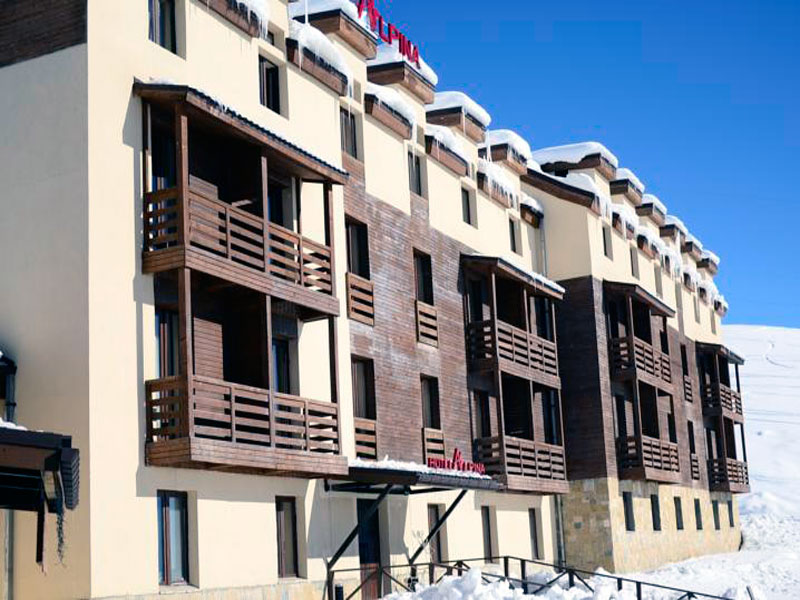 Dance and music lovers can have a party at Marco Polo nightclub! The evening entertainment program is available in the bar of Marco Polo from 22:00 am till the morning. This stylish lounge bar with a great atmosphere is an opportunity to have fun while the bartenders are always ready to offer you delicious cocktails and a wide range of strong drinks!
Hotel Alpina is a relatively new one. It was built in 2014 and is located five hundred meters from the main ski slopes. The hotel offers 64 comfortable rooms with stunning views of snow-white mountain peaks, a restaurant with delicious dishes of Georgian cuisine, a lounge with great music and a wide range of Georgian wines.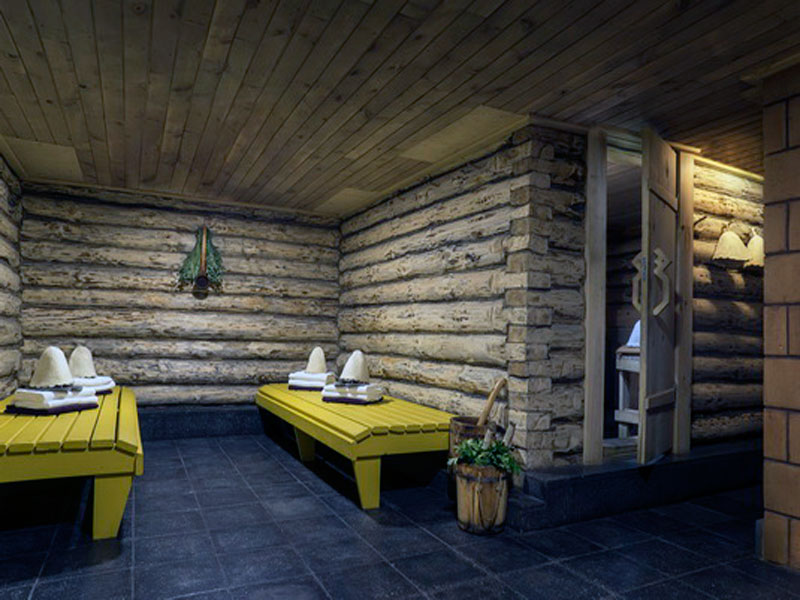 In the entire hotel Wi-Fi connection is free. The rooms have a balcony, satellite TV, and a private bathroom. After skiing, you can relax in the leisure centre: with steam bath, billiards and bowling.
Wellness Center "Tsar Bani" offers its visitors to enjoy the sauna and the Russian bath at a height of 2200 m above sea level! Even if you are staying in a different hotel, you have a chance to feel the charm of its steam baths, recover from active sports and relieve fatigue. The hotel has a total of 4 rooms; all of them are equipped with a private bathroom. For your convenience, you will find complimentary toiletries and hair dryers. Guests can visit the on-site restaurant. Free private parking is also valid.
For all those who wish to spend an active winter holiday in Gudauri, we are ready to offer our Ski Tour to Georgia.
Choose the Tour to Georgia you like most and tour-operator MyGeo will organize your amazing Holiday in Georgia. Travel to Georgia with MyGeo.
Tours to Armenia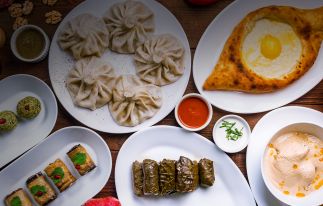 Other Travel Articles
Thank you! You have succeeded your payment. Our tour coordinator will contact you the nearest working