The national festival is the best opportunity to plunge into the national culture of the country, get to know the locals, learn a lot of interesting facts, enjoy tasty local dishes and just have a great time. Georgia is not the exception – each year various colourful festivals dedicated to national holidays and other events take part in the country. In this article you can get acquainted with the most popular Georgian festivals, and if your visit coincides with one of them be sure not to miss an opportunity and take part!
Festivals in Georgia: Tbilisoba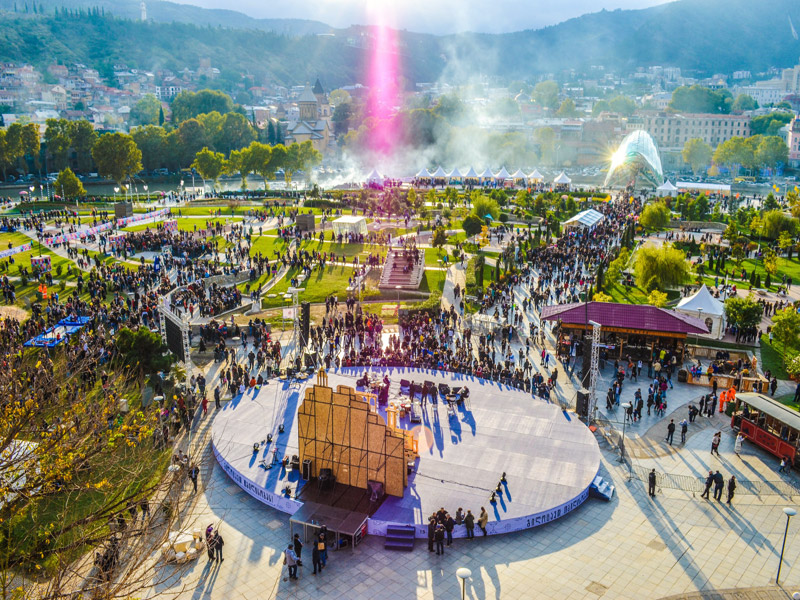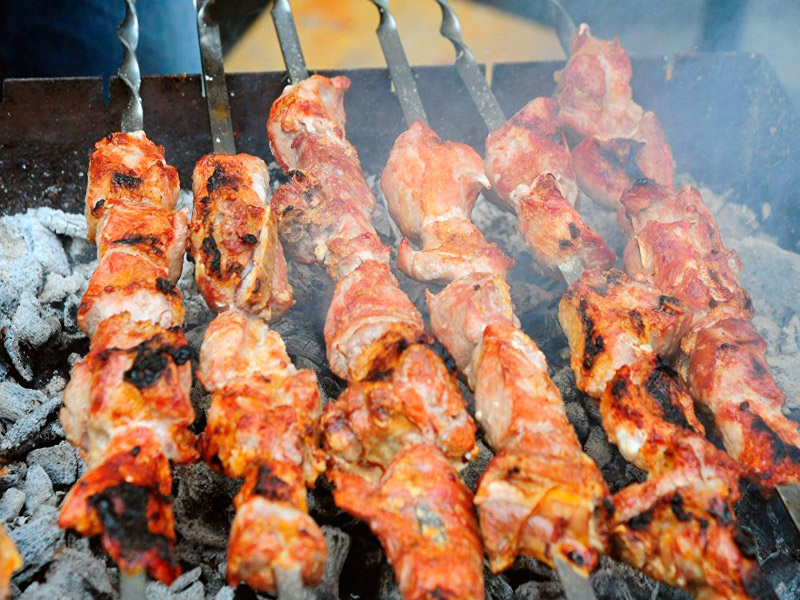 Birthday happens only once a year, so it is necessary to celebrate it in a bright, fun and memorable way. And if it is a birthday of your beloved city then this event should be celebrated in such grand-scale so that the residents and guest remember it for long. Exactly in this way Georgia celebrates the birthday of Tbilisi – "Tbilisoba". This holiday falls on the last weekend of October and has already been celebrated more than 30 years in a row. So, what to expect from Tbilisoba? Shows, festivals, concerts, scenes, fireworks, and an abundance of fruits, vegetables, wines, cheeses, sweets and other treats. The celebration is concentrated in the city centre, in the park Rica, on Gorgasali square and other parks and lasts for several days. One of the interesting elements of Tbilisoba is the process of grape crushing, in which anyone can take part. On the main square a huge capacity with grapes is set – join the participants and feel like a real winemaker! The other no less interesting event is the food festival, during which the guest will be able to taste appetizing barbecue and other treats. And of course, the festival will not be complete without Georgian wines so popular around the world. If you manage to visit Tbilisoba you will undoubtedly enjoy the incredible atmosphere and take lots of memories and photos. In 2016 Tbilisoba was held on October 15-16.
Festivals in Georgia: Batumoba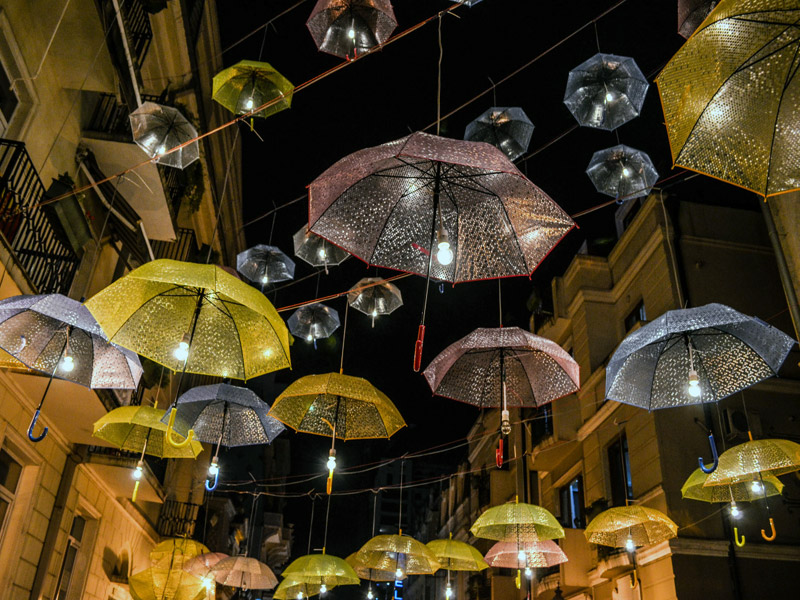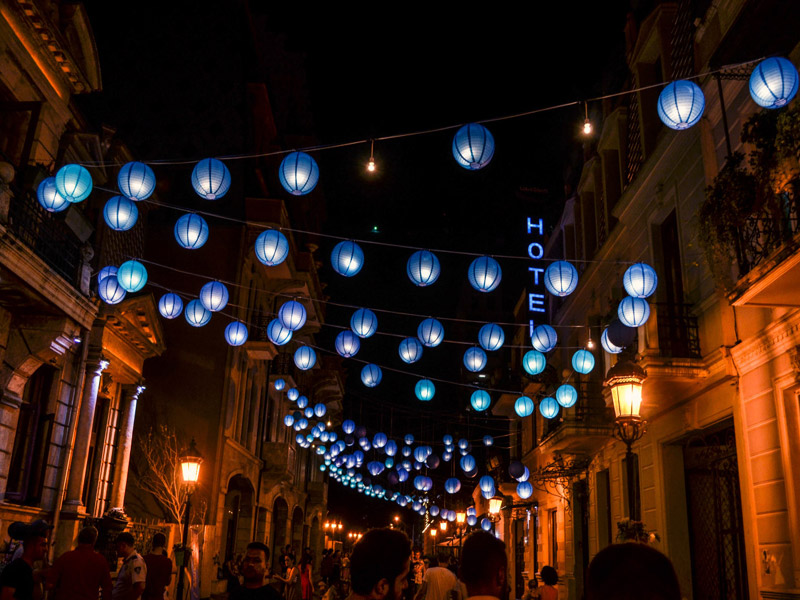 Batumoba is a day of Batumi – a bright and colourful Georgian Black Sea resort. Of course, this day is not celebrated in Batumi on such a grand scale as in the capital, but anyway, the participants will be able to take part in many interesting events. This day the city is beautifully decorated, concepts, concerts with the participation of both local and foreign musical groups are organized. The main festival event is Gandagana. Generally, "gandagana" is the name of a traditional Adjarian dance. And during Gandagana which lasts two days, you will be able to get acquainted with primordial rustic traditions of that region. Festival usually falls on September 3-4.
Festivals in Georgia: Rtveli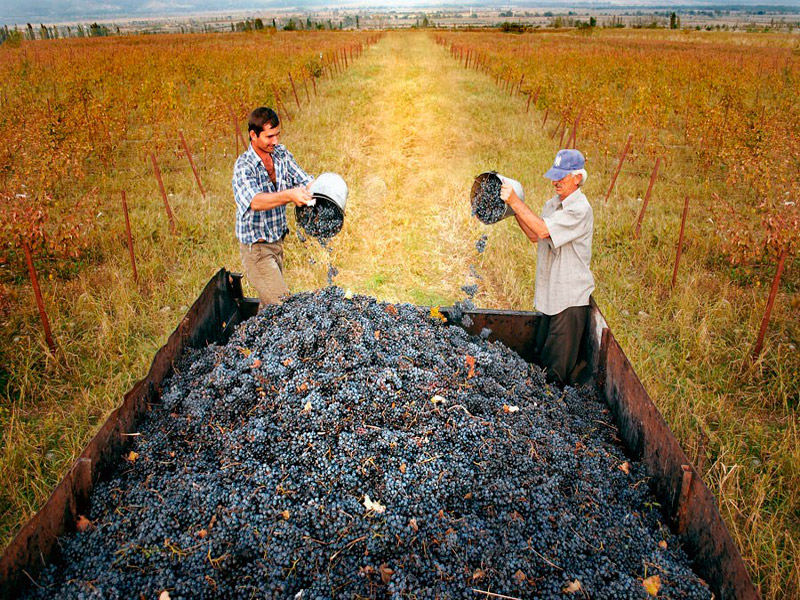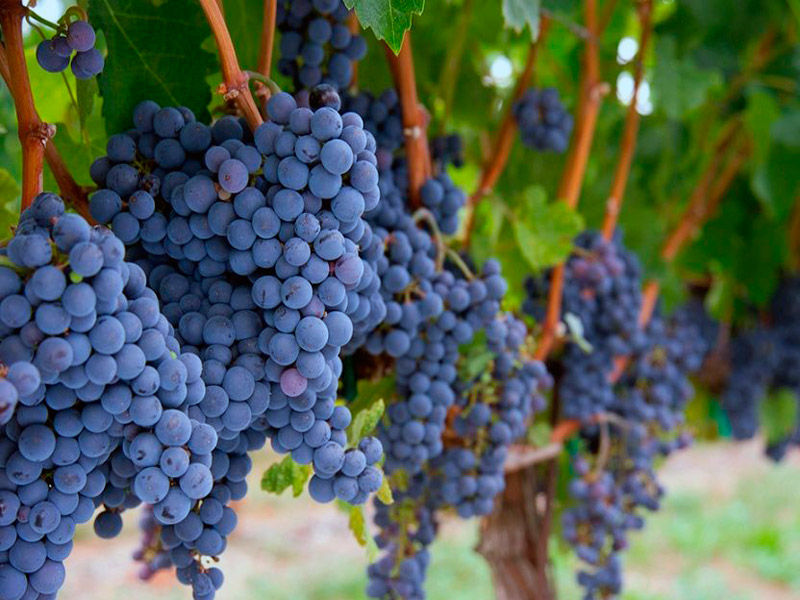 One of the main autumn events in Georgia is the ingathering of grapes. For Georgia, the ancient winemaking country in the world, it is not just an ordinary process of agriculture, that is a real ritual that unites all the relatives and friends. There is no exact date of Rtveli as it depends on the harvesting dates of a specific region. We advise you to visit the region of Kakheti – the centre of winemaking in Georgia. In this picturesque region, this festival is held on a special scale and colour. And despite the fact that Rtveli is a family event, visitors can also take part in it. The hosts will be only happy! Ripe bunches of grapes are cut with a knife and put in the baskets, then the harvest is shifted in the clay containers – kvevri. Аfter harvesting the festive meal starts – the table is full of delicious local dishes – appetizing barbecue, khachapuri, local cheese, freshly baked bread and, of course, home-made wine. Rtveli is full of fun, noise and jokes.
Festivals in Georgia: Cheese Festival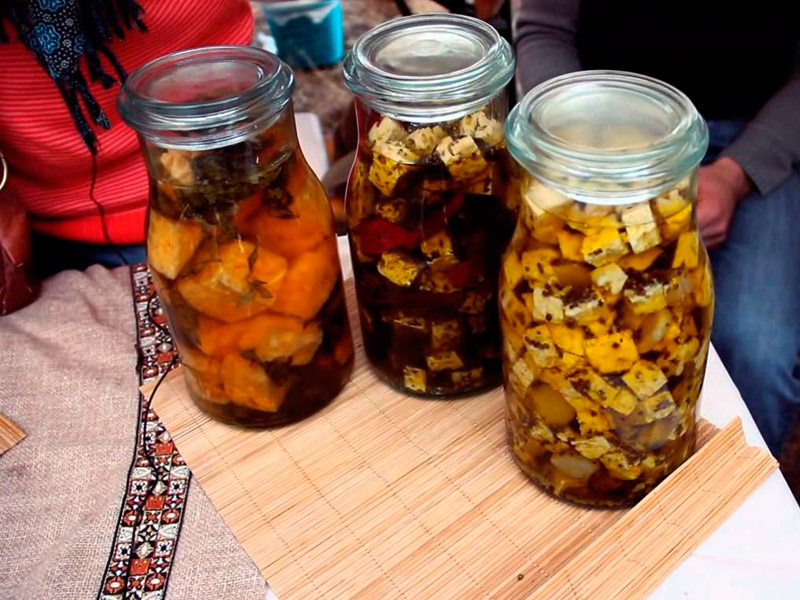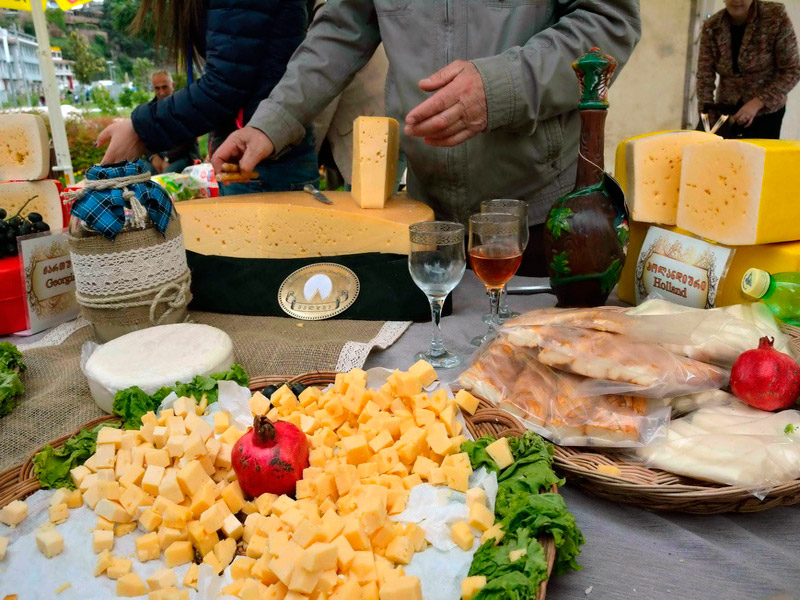 Would you like to taste the unique varieties of Georgian and Caucasian cheese? Then we recommend not to miss the annual cheese festival in Georgia, which became international in 2015. Earlier the festival was held in Tbilisi, but recently it was decided to hold the event in the winning region. Therefore, "the cheese holiday" mostly takes place in June, but in 2020 it will move on the months of spring. During the festival, the guests had an opportunity to taste a variety of cheeses: strong and hard dambal-khacho cheese, spicy guda, tenili kveli woven into a braid, cheeses soaked in oil, honey, spices and even wines. Just an urgent piece of advice: visit the festival when you are hungry! During the festival, peasants demonstrate the ancient tools for making cheese and tell interesting facts. So if you are interested in the world of the cheesemaking.
Festivals in Georgia: Tbilisi Jazz Festival
Tbilisi Jazz Festival is a huge event, which is traditionally attended by world-known leading musicians. It is important to note that in addition to the world-famous groups, the young Georgian jazz performers are also involved in the event. Last year's festival was attended by legends of jazz – Diana Krall, Esperanza Spalding, Avishai Cohen, Edmar Castaneda and others. Generally, the festival takes place between the second half of July and the first half of August, but this year it will take place in Spring.
Choose the Tour to Georgia you like most and tour-operator MyGeo will organize your amazing Holiday in Georgia. Travel to Georgia with MyGeo!
Tours to Armenia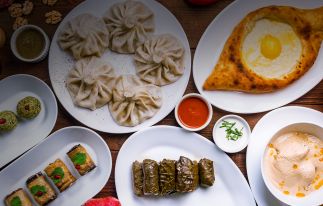 Other Travel Articles
Thank you! You have succeeded your payment. Our tour coordinator will contact you the nearest working