An integral part of any trip around a foreign country is a visit to local restaurants and tasting of national dishes and drinks. Georgia is a paradise for gourmets: delicious hot khachapuri, a variety of meat dishes, soups, different cheeses and a huge selection of local wines. Do you want to enjoy all this? Then go ahead! And not to get lost in a variety of different restaurants, we offer you a list of Tbilisi restaurants which scored the highest ratings among tourists. And for those who want to enjoy not only the local cuisine, we also have some interesting options.
Restaurants of Tbilisi: Funicular Restaurant Complex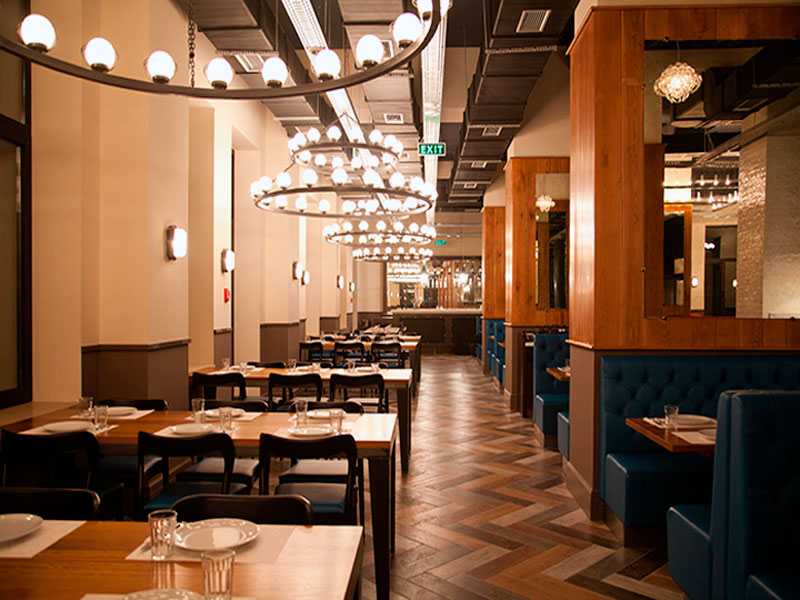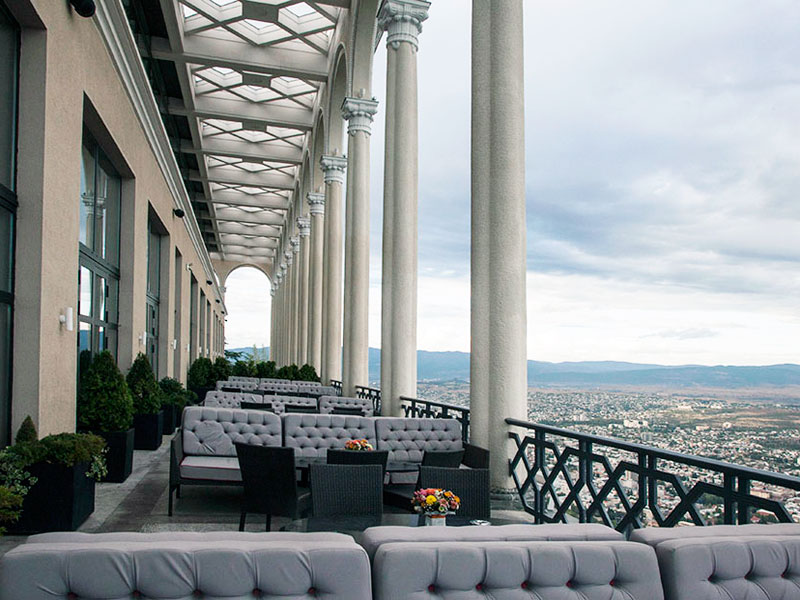 One of the most stylish and well-known restaurants in Tbilisi "The Funicular Restaurant Complex" is located at the Tbilisi funicular on the top of the Mount Mtatsminda. Undoubtedly, it is a must-visit place for all the guest of the capital. You can get the restaurant by a cosy cable car (Chonkadze Str.) which is slowly rising up the hill, allowing you to enjoy spectacular views of Tbilisi. This restaurant has a significant history, dating back to 1905. It was visited by Fidel Castro, Margaret Thatcher, Alain Delon, and other distinguished guests. The restaurant includes 5 separate rooms: Chela (traditional Georgian cuisine), Puri Guliani (bakery), a lounge bar and a banquet hall and an event hall for activities that are perfect for business meetings, parties or weddings. The restaurant offers superb views of Tbilisi! Here you can enjoy a glass of real Georgian wine, as well as all known national Georgian dishes such as, for example, Ajarian khachapuri, Imereti khachapuri, lobiani, khinkali with meat or cheese, mushrooms baked with cheese suluguni, chikhirtma, and many others. In addition to the national cuisine, the restaurant offers a wide variety of international delicious dishes: veal consomme with khinkali, beet carpaccio with cheese, duck with princely cornel sauce, lamb with couscous and other. Prices are slightly higher than average.
Cuisine – Georgian

Address – the second floor of the complex Funicular, Mtatsminda plateau 0114, Tbilisi

Telephone – +995 32 298 00 00

Working hours – 18:00-00:00

Additional Information: payment by plastic card / parking / Wi-Fi / Private Dining
Restaurants of Tbilisi: Ethno Tsiskvili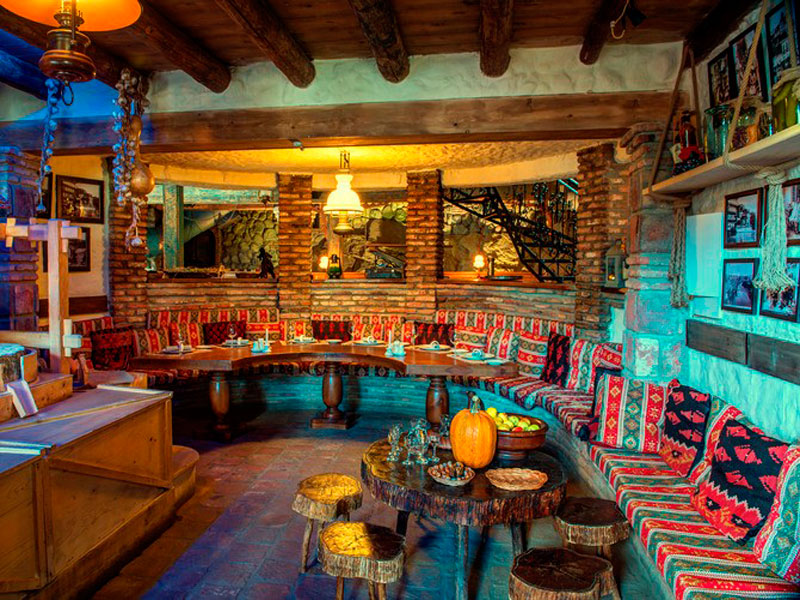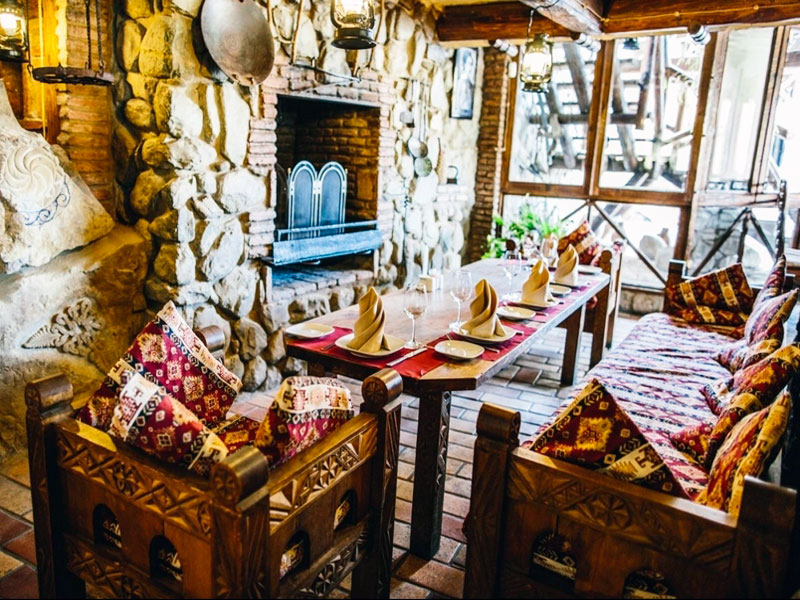 Restaurant-Museum "Ethno Tsiskvili" belonging to the known Tsiskvili network is located at Belashvili Street. This unique restaurant will allow you not only taste delicious food but also get in close touch with the Georgian culture. Everything here is decorated in an authentic style, there are even a real waterfall, a water mill and a natural rock. The restaurant has 3 halls: "Sanadimo", "Ethnic" and "Asian room." The first of these is an interesting fusion of strain and novelty, the second is decorated with museum exhibits, and the third is filled with exotic oriental ambience. Every night at 20:00 an exciting show program begins, during which guests can enjoy Georgian songs and dances. In warm weather, you can sit on the veranda and enjoy the pleasant noise of the outdoor waterfall.
Cuisine – Georgian

Address – Tbilisi, Right embankment of the Kura River

Phone – + 995 591342233

Opening hours – every day 12:00 – until the last guest leaves
Restaurants of Tbilisi: Cafe Gabriadze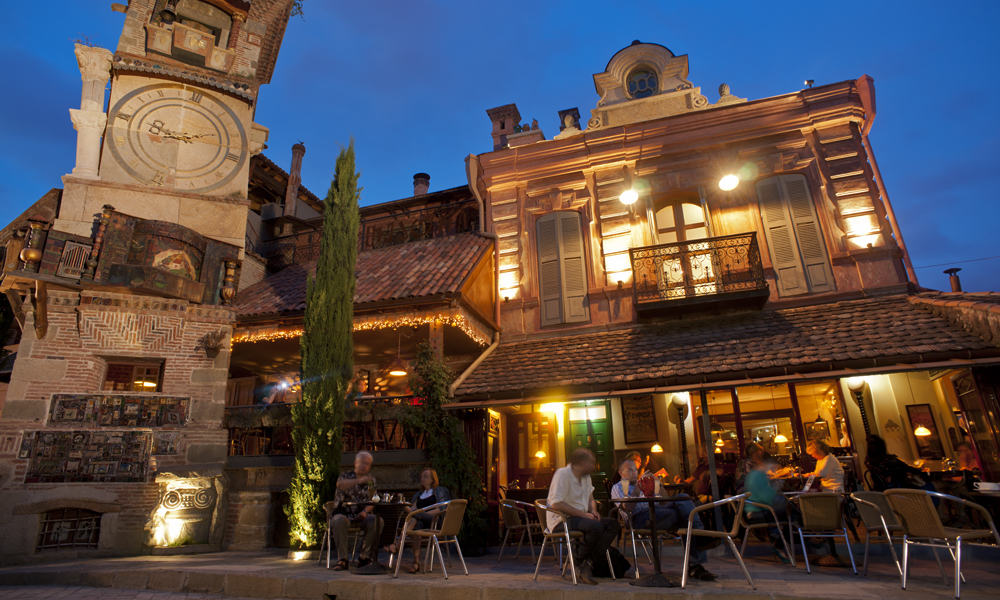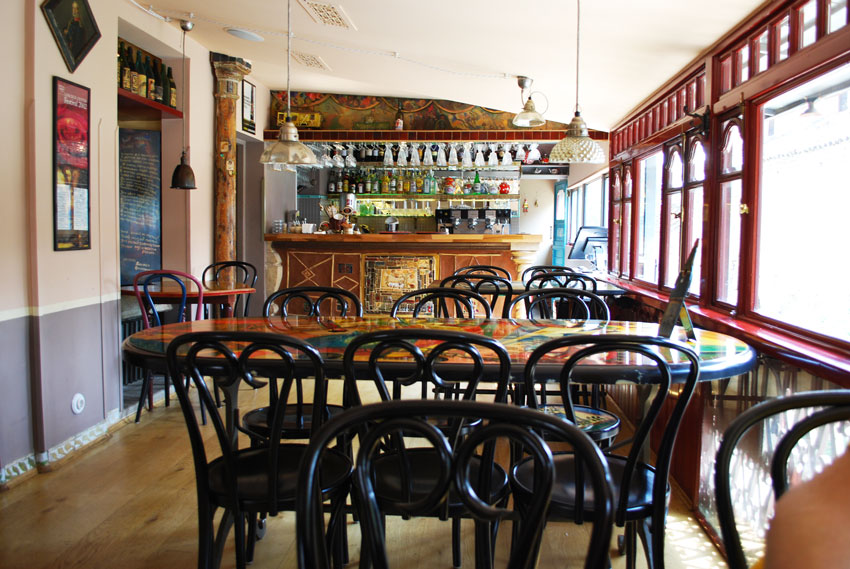 Small restaurant "Gabriadze" is a perfect example of the multifaceted expression of one's talent. The fact is that it was opened by Rezo Gabriadze – known Georgian writer, painter, sculptor and puppeteer who created all the details with his own hands, investing not only his time but also the soul. Despite the fact that prices are higher than average, the restaurant is always full of people. The interior is so amazing that you can spend a lot of time on the study of the curious details. The restaurant is very suitable for a pleasant time with just a cup of coffee or a nice dinner with friends. The theatre of Gabriadze where you can get familiar with his talented performances is located just next to the restaurant. And one more interesting tip: every hour at the clock tower appears the angel counting the hours. His "working time" is from 10 till 18. Don't miss it!
Cuisine – Georgian, European

Address – Shavteli Str. 12

Phone – + 995322986594
Restaurants of Tbilisi: Purpur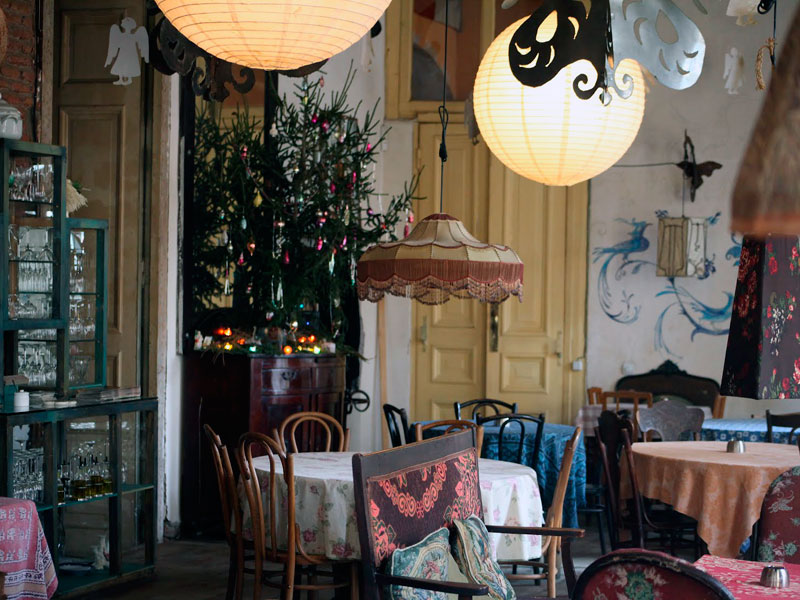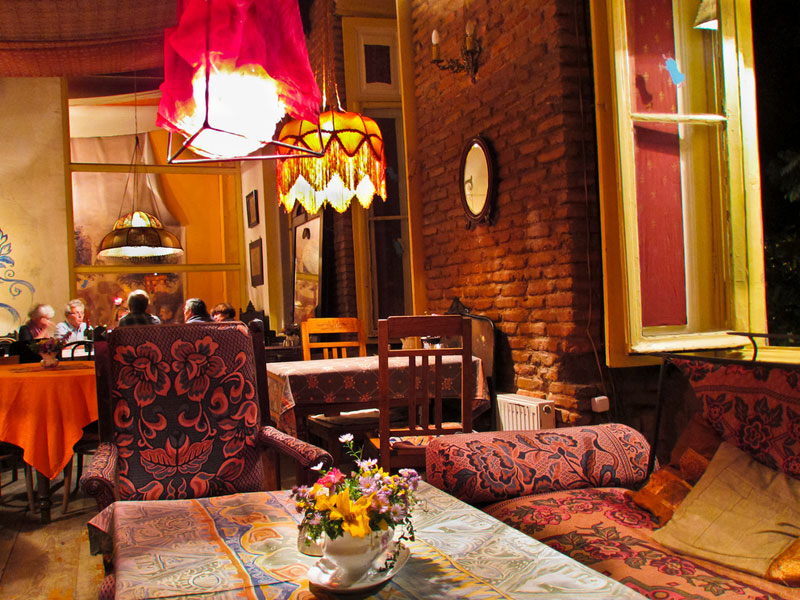 Vintage restaurant "Purpur" is located away from the busy streets in one of the old and colourful districts of Tbilisi – Sololaki. Each floor of the restaurant is reminiscent of "grandma's wardrobe": colourful carpets, sofas with cushions, interesting furniture, old photos, bright tablecloths. Despite the abundance of colours and objects, the sense of taste is preserved and a cosy atmosphere reigns. The restaurant mainly offers European dishes with some elements of local cuisine. They say that it would be a perfect choice for breakfast or a cosy dinner with friends. Once you are in "PurPur" be sure to taste their speciality – soup "Purpur" with fresh vegetables and pine nuts. Being in the restaurant, it seems that time has stopped and you feel like in the 19th century. Even in the restroom, everything is thought out to the smallest detail. Powder Room resembles a real vintage boudoir: small chairs, sofas, mirrors and other interesting pieces of furniture. Ladie's room resembles a real vintage boudoir: small chairs, sofas, mirrors and other interesting pieces of furniture. Visiting "Purpur" one day, one wants to come back here again and again. A table is better to be booked in advance, and just note that the prices are rather high.
Cuisine – European

Address – Abo Tbileli Str. 1

Telephone – +995 322 47 77 76
Restaurants of Tbilisi: Organic Josper Bar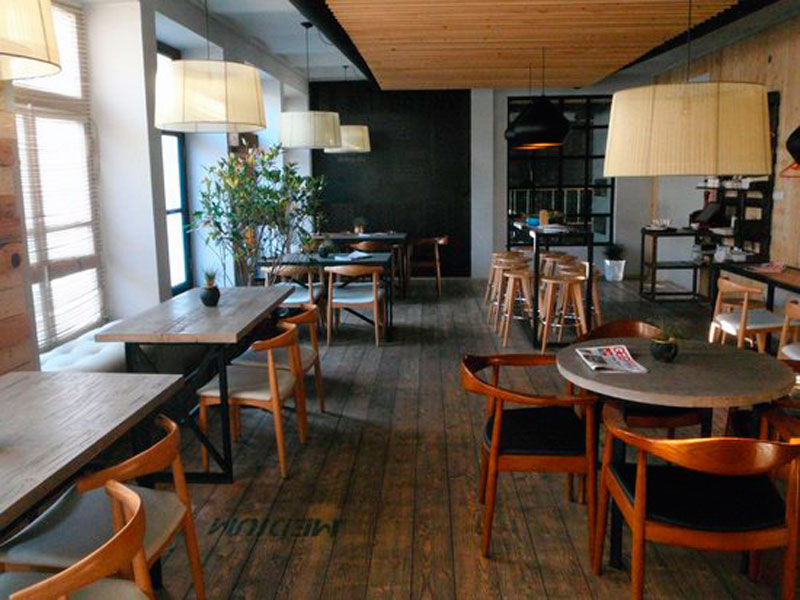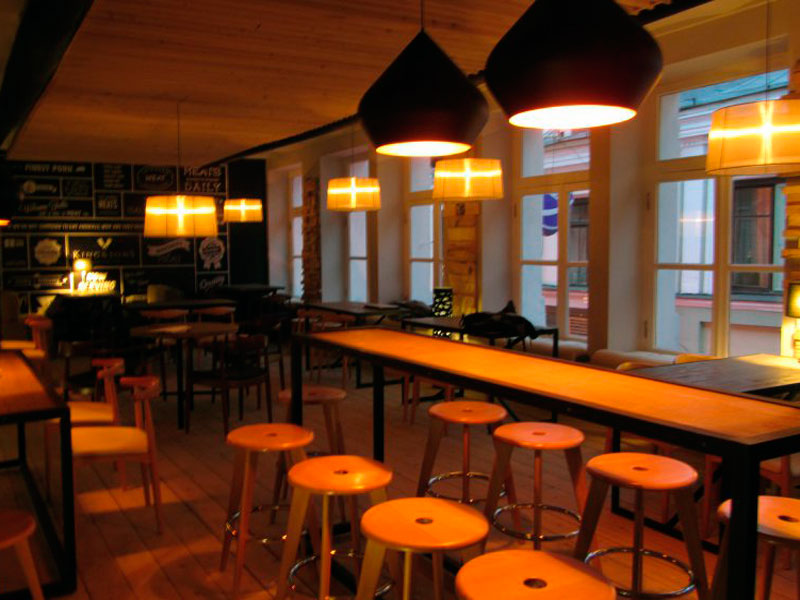 The restaurant "Organic Josper Bar" is located in the centre of Tbilisi not far from the "Freedom Square" metro station. The design of the restaurant is, on the one hand, simple, but well thought out, all around you can feel the harmony and balance of understanding: wooden furniture, soft gentle light, tasty and healthy food. As you've probably guessed from the name, they try here to use only organic products. Meat and fish are cooked in jasper – a special charcoal grill, which gives a unique taste of food. The restaurant staff is well prepared and the service is at a high level. If you like juicy steaks and European cuisine – this place is for you!

Cuisine – European

Address- Bambis Riga Str. 12

Telephone – +995 593 73 50 83
Choose the Tour to Georgia you like most and tour-operator MyGeo will organize your amazing Holiday in Georgia. Travel to Georgia with MyGeo.
Tours to Armenia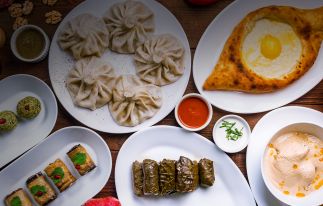 Other Travel Articles
Thank you! You have succeeded your payment. Our tour coordinator will contact you the nearest working